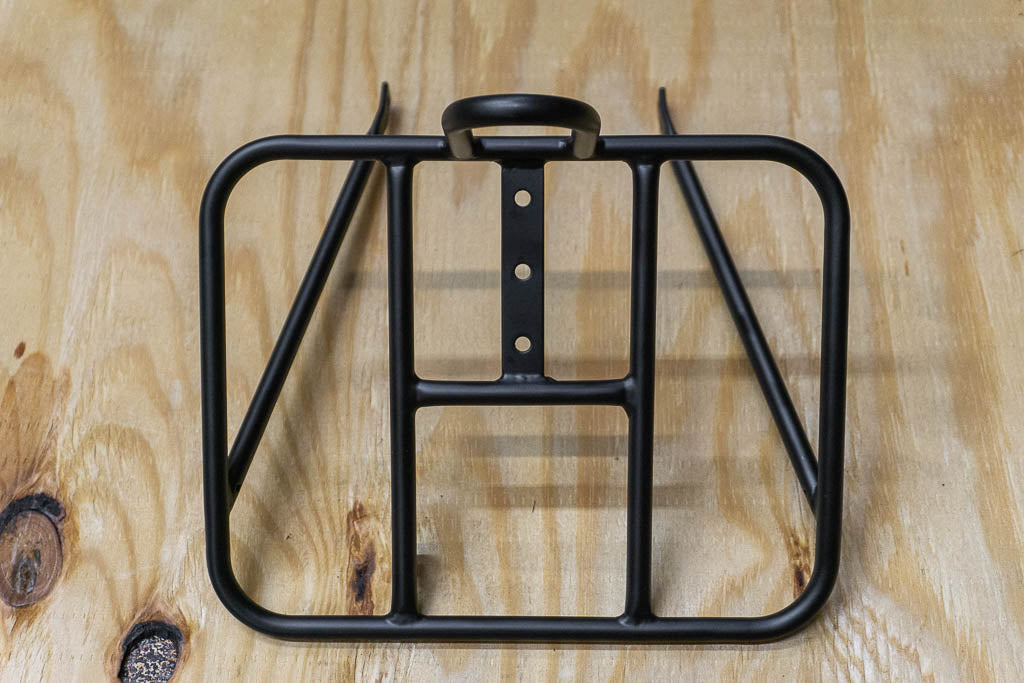 Milk Crate Porteur Rack
FRIENDPOINT Rack Rebate
Frameset owners get $40 cash back. Hunter Gatherer Fork owners get $20 cash back. Rebate applied after checkout prior to shipping.

Need room for adventure? Groceries for the week? Somewhere to stash your change of clothes for those corporate commutes? We needed an amazing rack for any occasion so we designed our own.

Built-by-hand to fit the Hunter-Gatherer steel fork, the Milk Crate rack is the perfect size for the front rando bags like the Swift Industries Ozette — or pair it with a Wald 137 and your favorite basket bag. You can't go wrong.

Our rack is made with 100% steel, mounts with an adjustable fork tang and fixed leg mounting points. It is designed to be stronger and lighter, with a low-fuss, easy to mount setup.

Dimensions: 26.5 x 27 x 23.5 cm (11 x 10.5 x 9.5 in), 90mm tombstone

Weight: 690 grams / 24 oz / 1.5 lbs (about 1.5 lbs including hardware)
Includes rack, tang, hardware

The Milk Crate Rack is designed to fit the Endpoint Hunter Gatherer Fork, but also plays nice with others. If you would like to install the rack on a different fork, please email us to check the fork compatibility.
Will it fit your bike?

Below is a list of other forks that our customers have used our rack on with great results and big smiles for miles. Please contact us if you are unsure of your fit and we can recommend possible solutions for your bike.
Kona Rove steel forks - Awesome fit!
Soma Wolverine - Awesome fit!
Niner RLT steel

VeloOrange Polyvalent forks
Rivendell forks
Crust Bombora